Western Kia Drive Change Day
April 14 2015, Western Kia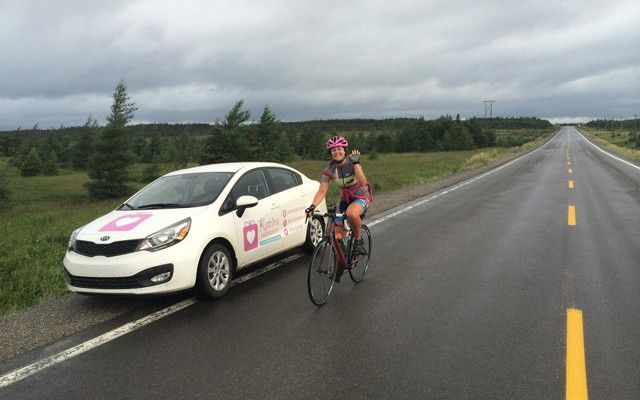 Supports 19-Year-Old's 1000 Kilometer Bike Ride Across Newfoundland!
Check this out!
"Western KIA Supports Katrin's Karepackage"
(Above photo 19-year-old Maike Van Niekerk and her KIA Rio – as she travels across Newfoundland via Bicycle in support of her Charity Katrin's Karepackage's.)

Every year in August KIA strives to "DRIVE CHANGE" and make a difference within their local communities in support of many great causes! This year Western KIA is supporting our 19-year-old KIA customer Maike Van Niekerk. This amazing young lady has taken on the challenge of driving peddle bike 1000 kilometres across her Province of Newfoundland to earn charitable donations towards Katrin's Karepackage's (a charity she created in memory of her Mother).

Katrin's Karepackage is a cause that supports Cancer patients and their costs of travelling across the Province to receive treatment.

Maike successfully completed her biking journey on Wednesday, August 13th, 2014. She is now making her way back home to the West Coast of the island. Maike has exceeded her original goal of $30,000 and we hope that with the added support of "DRIVE CHANGE" and our local community we can help her continue to help those in need!

Maike's drive and determination to make a difference sets a perfect example of how "We can ALL DRIVE CHANGE!"

WAY TO GO MAIKE!!!